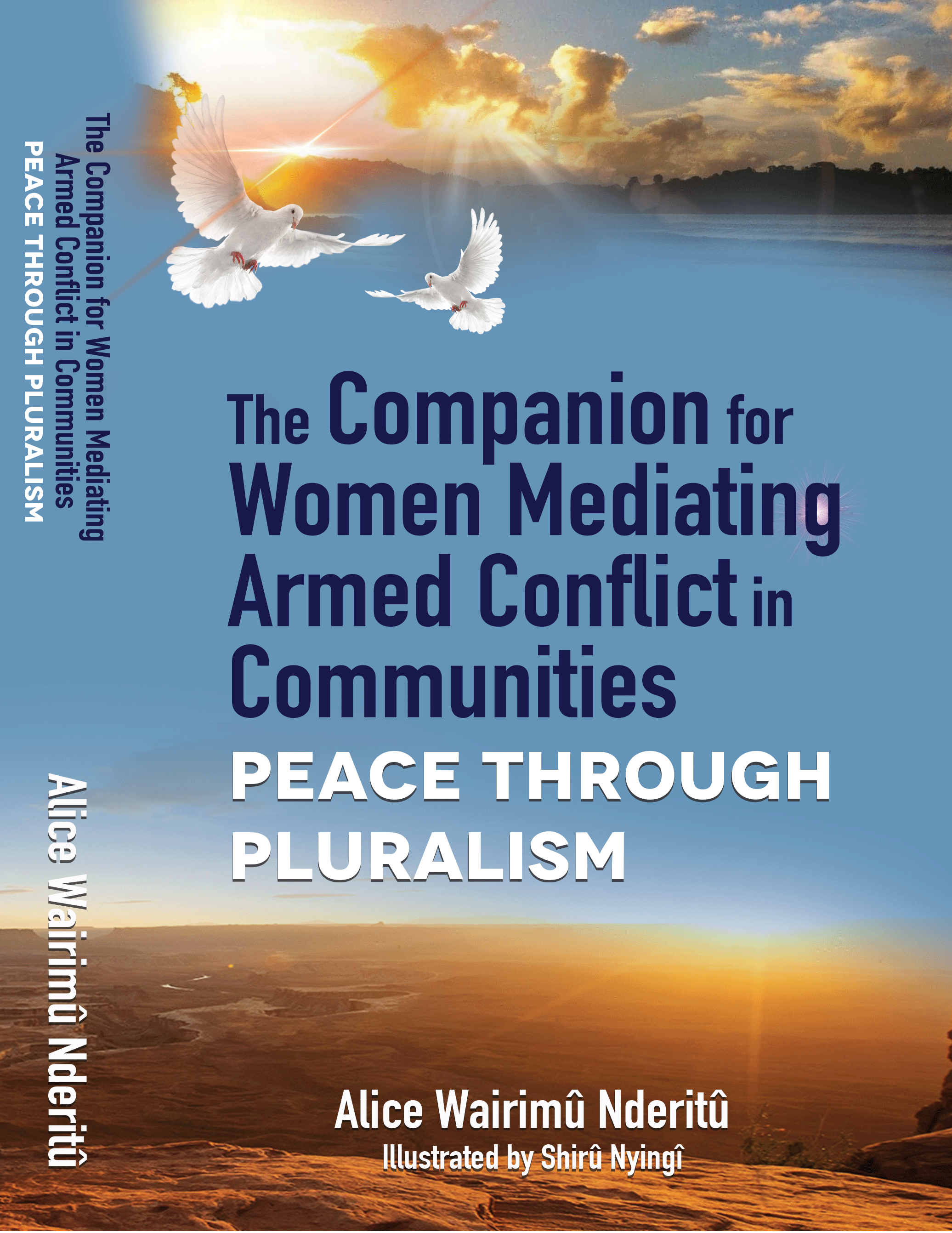 The Companion for Women Mediating Armed Conflict in Communities
Drawing on years of personal experience mediating armed conflict across several countries and from collective community voices, Alice Wairimū Nderitū presents a cutting-edge approach, Peace Through Pluralism, in the Companion for Women Mediating Armed Conflict in Communities – Peace Through Pluralism (The Companion). The Companion includes a guide for facilitators.
Nderitū presents a unique combination of personal observation and evidence to make a convincing case for a Peace Through Pluralism approach.
Peace Through Pluralism is a mediation and dialogue facilitation approach that recognizes and places a lot of value on the existence of different types of people who have different beliefs and opinions within the same society. It is also the belief that the existence of these different types of people within the same society is not only a good thing but the cornerstone of peaceful co-existence, when their differences are respected.
As one of the pioneer women mediators of armed conflict in the world, Nderitū writes The Companion primarily for women either working as or wishing to mediate or facilitate dialogues on armed conflict in their communities. The Companion is also relevant across genders.
The Companion's framework is both original and user-friendly. Drawing on her own experience and of other peace builders who have impacted and changed their communities towards peaceful co-existence, Nderitū gives numerous examples on the practicability of a Peace Through Pluralism Approach.
The Companion is a breakthrough book towards building the capacities of women peace builders. Combining in-depth research and analysis with extensive narratives of women building peace in divided societies, Nderitū gives a simple step-by- step approach for community mediators of armed conflict.
The Companion is written in fulfillment of a promise Nderitū made when she received the Global Pluralism Award in Ottawa, 2017 and the Jack P. Blaney Award for Dialogue in Vancouver, 2018.
Nderitū pledged to find African women peace builders, who, like her, mediated and facilitated dialogues among communities involved in armed conflict. Nderitū promised to support and build capacities of women mediators to move conflicting parties towards addressing root causes of violence, finding common ground and making and implementing decisions they owned, through a pluralistic lens.